Product Features:
· It's a linear motion valve, general match with on-off type Multi-turn actuator.
· Simple operation, is one of the most common on-off valve, which uses gate plate up and down movement to
turn on and turn off the fluid medium in the pipe.
·Widely used in electric power, metallurgy, petroleum, chemical, paper, sewage treatment and other industries.
Electric Actuator Main Parameters:
Power Supply: 380V 50Hz (for selected);
Working Environment: Environmental Temperature: -20℃~+60℃; Relative Humity:≤90(25℃)(surrounding air does not have corrosive elements);
Protection Grade: IP55;
Working Duty: Short duty, rated working time is 10 minutes.
Properties
| | |
| --- | --- |
| Design Standard | GB/T12234 |
| Body Material | Cast Steel |
| Operation way | Electric |
| Packing | Asbestos, flexible graphite |
| Seal | Alloy steel or hard alloy |
| Nominal Pressure | PN1.6~2.5MPa |
| Applicable Medium | Water, Oil, Gas, etc |
| Applicable Temperature | ≤425℃ |
Dimension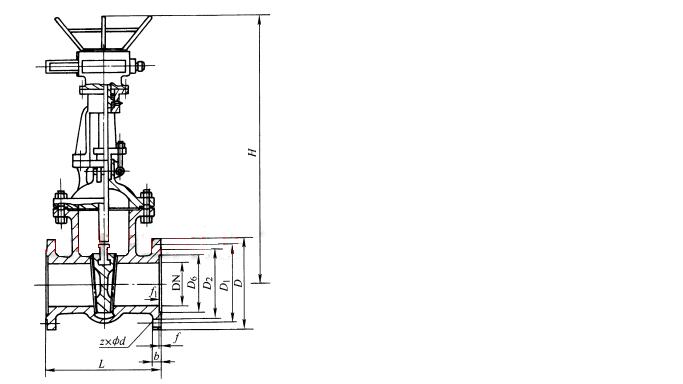 PN1.6MPa(mm)
| | | | | | | | | | |
| --- | --- | --- | --- | --- | --- | --- | --- | --- | --- |
| DN | L | D | D1 | D2 | b | f | Z×φd | H | Weight, kg |
| 50 | 250 | 160 | 125 | 100 | 16 | 3 | 4×φ18 | 653 | 59 |
| 65 | 265 | 180 | 145 | 120 | 18 | 3 | 4×φ18 | 665 | 62 |
| 80 | 280 | 195 | 160 | 135 | 20 | 3 | 8×φ18 | 725 | 74 |
| 100 | 300 | 215 | 180 | 155 | 20 | 3 | 8×φ18 | 787 | 92 |
| 125 | 325 | 245 | 210 | 185 | 22 | 3 | 8×φ18 | 902 | 152 |
| 150 | 350 | 280 | 240 | 210 | 24 | 3 | 8×φ23 | 955 | 161 |
| 200 | 400 | 335 | 295 | 265 | 26 | 3 | 12×φ23 | 1105 | 219 |
| 250 | 450 | 405 | 355 | 320 | 30 | 3 | 12×φ25 | 1343 | 376 |
| 300 | 500 | 460 | 410 | 375 | 30 | 4 | 12×φ25 | 1516 | 484 |
| 350 | 550 | 520 | 470 | 435 | 34 | 4 | 16×φ25 | 1678 | 695 |
| 400 | 600 | 580 | 525 | 485 | 36 | 4 | 16×φ30 | 1849 | 977 |
| 450 | 650 | 640 | 585 | 545 | 40 | 4 | 20×φ30 | 1937 | 1033 |
| 500 | 700 | 705 | 650 | 608 | 44 | 4 | 20×φ34 | 2234 | 1087 |
| 600 | 800 | 840 | 770 | 718 | 48 | 5 | 20×φ41 | 2432 | 1357 |
| 700 | 900 | 910 | 840 | 788 | 50 | 5 | 24×φ41 | 2489 | 1481 |
| 800 | 1000 | 1020 | 950 | 898 | 52 | 5 | 24×φ41 | 2643 | 1845 |
PN2.5MPa(mm)
| | | | | | | | | | |
| --- | --- | --- | --- | --- | --- | --- | --- | --- | --- |
| DN | L | D | D1 | D2 | b | f | Z×φd | H | Weight, kg |
| 50 | 250 | 160 | 125 | 100 | 20 | 3 | 4×φ18 | 653 | 64 |
| 65 | 265 | 180 | 145 | 120 | 22 | 3 | 8×φ18 | 665 | 65 |
| 80 | 280 | 195 | 160 | 135 | 22 | 3 | 8×φ18 | 725 | 79 |
| 100 | 300 | 230 | 190 | 160 | 24 | 3 | 8×φ23 | 787 | 98 |
| 125 | 325 | 270 | 220 | 188 | 28 | 3 | 8×φ25 | 902 | 154 |
| 150 | 350 | 300 | 250 | 218 | 30 | 3 | 8×φ25 | 955 | 160 |
| 200 | 400 | 360 | 310 | 278 | 34 | 3 | 12×φ25 | 1105 | 168 |
| 250 | 450 | 425 | 370 | 332 | 36 | 3 | 12×φ30 | 1343 | 390 |
| 300 | 500 | 485 | 430 | 390 | 40 | 4 | 16×φ30 | 1516 | 505 |
| 350 | 550 | 550 | 490 | 448 | 44 | 4 | 16×φ34 | 1678 | 736 |
| 400 | 600 | 610 | 550 | 505 | 48 | 4 | 16×φ34 | 1849 | 1027 |
PN4.0MPa(mm)
| | | | | | | | | | | | |
| --- | --- | --- | --- | --- | --- | --- | --- | --- | --- | --- | --- |
| DN | L | D | D1 | D2 | D6 | b | f | f1 | Z×φd | H | Weight, kg |
| 50 | 250 | 160 | 125 | 100 | 88 | 20 | 3 | 4 | 4×φ18 | 665 | 58 |
| 65 | 280 | 180 | 145 | 120 | 110 | 22 | 3 | 4 | 8×φ18 | 680 | 68 |
| 80 | 310 | 195 | 160 | 135 | 121 | 22 | 3 | 4 | 8×φ18 | 752 | 80 |
| 100 | 350 | 230 | 190 | 160 | 150 | 24 | 3 | 4.5 | 8×φ23 | 846 | 108 |
| 125 | 400 | 270 | 220 | 188 | 176 | 28 | 3 | 4.5 | 8×φ25 | 923 | 151 |
| 150 | 450 | 300 | 250 | 218 | 204 | 30 | 3 | 4.5 | 8×φ25 | 1087 | 258 |
| 200 | 550 | 375 | 320 | 282 | 260 | 38 | 3 | 4.5 | 12×φ30 | 1243 | 366 |
| 250 | 650 | 445 | 385 | 345 | 313 | 42 | 3 | 4.5 | 12×φ34 | 1429 | 472 |
| 300 | 750 | 510 | 450 | 408 | 364 | 46 | 4 | 4.5 | 16×φ34 | 1608 | 673 |
| 350 | 850 | 570 | 510 | 465 | 422 | 52 | 4 | 5 | 16×φ34 | 1738 | 804 |
| 400 | 950 | 655 | 585 | 535 | 474 | 58 | 4 | 5 | 16×φ41 | 1897 | 1081 |
PN6.4MPa(mm)
| | | | | | | | | | | | |
| --- | --- | --- | --- | --- | --- | --- | --- | --- | --- | --- | --- |
| DN | L | D | D1 | D2 | D6 | b | f | f1 | Z×φd | H | Weight,kg |
| 50 | 250 | 175 | 135 | 105 | 88 | 26 | 3 | 4 | 4×Φ23 | 667 | 68 |
| 65 | 280 | 200 | 160 | 130 | 110 | 28 | 3 | 4 | 8×Φ23 | 685 | 72 |
| 80 | 310 | 210 | 170 | 140 | 121 | 30 | 3 | 4 | 8×Φ23 | 748 | 88 |
| 100 | 350 | 250 | 200 | 168 | 150 | 32 | 3 | 4.5 | 8×Φ25 | 845 | 117 |
| 125 | 400 | 295 | 240 | 202 | 176 | 36 | 3 | 4.5 | 8×Φ30 | 935 | 158 |
| 150 | 450 | 340 | 280 | 240 | 204 | 38 | 3 | 4.5 | 8×Φ34 | 1090 | 314 |
| 200 | 550 | 405 | 345 | 300 | 260 | 44 | 3 | 4.5 | 12×Φ34 | 1253 | 432 |
| 250 | 650 | 470 | 400 | 352 | 313 | 48 | 3 | 4.5 | 12×Φ41 | 1449 | 595 |
| 300 | 750 | 530 | 460 | 412 | 364 | 54 | 4 | 4.5 | 16×Φ41 | 1867 | 721 |
| 350 | 850 | 595 | 525 | 475 | 422 | 60 | 4 | 5 | 16×Φ41 | 1931 | 963 |
| 400 | 950 | 670 | 585 | 525 | 474 | 66 | 4 | 5 | 16×Φ48 | 2017 | 1129 |
| 500 | 1150 | 800 | 705 | 640 | 576 | 70 | 4 | 5 | 20×Φ54 | 2459 | 1493 |
PN10MPa(mm)
| | | | | | | | | | | | |
| --- | --- | --- | --- | --- | --- | --- | --- | --- | --- | --- | --- |
| DN | L | D | D1 | D2 | D6 | b | f | f1 | Z×φd | H | Weight,kg |
| 50 | 250 | 195 | 145 | 112 | 88 | 28 | 3 | 4 | 4×Φ25 | 781 | 78 |
| 65 | 280 | 220 | 170 | 138 | 110 | 32 | 3 | 4 | 8×Φ25 | 830 | 96 |
| 80 | 310 | 230 | 180 | 148 | 121 | 34 | 3 | 4 | 8×Φ25 | 865 | 126 |
| 100 | 350 | 265 | 210 | 175 | 150 | 38 | 3 | 4 | 8×Φ30 | 1179 | 134 |
| 125 | 400 | 310 | 250 | 210 | 176 | 42 | 3 | 4.5 | 8×Φ34 | 1190 | 200 |
| 150 | 450 | 350 | 290 | 250 | 204 | 46 | 3 | 4.5 | 12×Φ34 | 1201 | 352 |
| 200 | 550 | 430 | 360 | 312 | 260 | 54 | 3 | 4.5 | 12×Φ41 | 1611 | 484 |
| 250 | 650 | 500 | 430 | 382 | 313 | 60 | 3 | 4.5 | 12×Φ41 | 1903 | 608 |
| 300 | 750 | 585 | 500 | 442 | 364 | 70 | 4 | 4.5 | 16×Φ48 | 2054 | 757 |
| 350 | 850 | 655 | 560 | 498 | 422 | 76 | 4 | 5 | 16×Φ54 | 2132 | 994 |
| 400 | 950 | 715 | 620 | 558 | 474 | 80 | 4 | 5 | 16×Φ54 | 2321 | 1269 |
PN16MPa(mm)
| | | | | | | | | | | | |
| --- | --- | --- | --- | --- | --- | --- | --- | --- | --- | --- | --- |
| DN | L | D | D1 | D2 | D6 | b | f | f1 | Z×φd | H | Weight,kg |
| 50 | 300 | 215 | 165 | 132 | 95 | 36 | 3 | | 8×Φ25 | 700 | 250 |
| 65 | 340 | 245 | 190 | 152 | 110 | 44 | 3 | | 8×Φ30 | 750 | 250 |
| 80 | 390 | 260 | 205 | 168 | 130 | 46 | 3 | | 8×Φ30 | 815 | 250 |
| 100 | 450 | 300 | 240 | 200 | 160 | 48 | 3 | | 8×Φ34 | 860 | - |
| 125 | 525 | 355 | 285 | 238 | 190 | 60 | 3 | | 8×Φ41 | 970 | - |
| 150 | 600 | 390 | 318 | 270 | 205 | 66 | 3 | | 12×Φ41 | 1224 | - |
| 200 | 750 | 480 | 400 | 345 | 275 | 78 | 3 | | 12×Φ48 | 1490 | - |
PN20MPa(mm)
| | | | | | | | | | |
| --- | --- | --- | --- | --- | --- | --- | --- | --- | --- |
| DN | L | D | D1 | D2 | b | f | Z×φd | H | Weight,kg |
| 50 | 350 | 210 | 160 | 128 | 40 | 3 | 8×Φ27 | 712 | - |
| 65 | 410 | 260 | 203 | 165 | 48 | 3 | 8×Φ30 | 765 | - |
| 80 | 470 | 290 | 230 | 190 | 54 | 3 | 8×Φ34 | 850 | - |
| 100 | 550 | 360 | 292 | 245 | 66 | 3 | 8×Φ41 | 980 | - |
| 125 | 650 | 385 | 318 | 270 | 76 | 3 | 12×Φ41 | 1080 | - |
| 150 | 750 | 440 | 360 | 305 | 82 | 3 | 12×Φ48 | 1240 | - |