Product Features:
· Ultrashort structure length ,saving material, can greatly reduce the overall weight of the piping system.
· Occupy the available space is small, can effectively support the strength pipes,
reduce the possibility of piping vibration.
· Gate plate selection austenitic stainless steel, corrosion resistance is greatly improved,
can effectively prevent leakage caused by gate plate corrosion.
· With multi turn electric device, so that the valve disc do up and down linear motion
to achieve remote control of opening or closing the valve.
· Used in sewage, paper, chemicals, coal, sugar, and other fields, particularly suitable
for the paper industry in the pipeline for regulating and throttling.
Electric Actuator Main Parameters:
Power Supply: 380V 50Hz (for selected);
Working Environment: Environmental Temperature: -20℃~+60℃; Relative Humity:≤90(25℃)(surrounding air does not have corrosive elements);
Protection Grade: IP55;
Working Duty: Short duty, rated working time is 10 minutes.
Main Spare Parts Material
Spare Parts

Description

Material

Marks

Body

Carbon steel,

Stainless steel

WCB、CF8(304)、CF3(304L)、CF8M(316)、CF3M(316L)

Stem

Stainless steel

304、316、2Cr13

Disc

Stainless steel

304、316、304L、316L、2Cr13

Seal

Hard alloy, PTFE




Packing

V PTFE, Flexible graphite



Dimension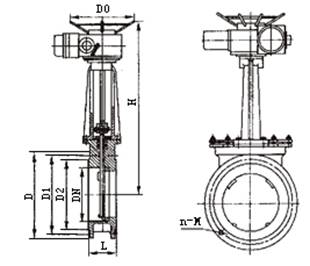 Unit:mm
Nominal pressure

MPa

Nominal diameter

DN(mm)

L

D

D1

D2

H

n-M

D0

1.0

50

43

160

125

100

330

4-M16

180

65

46

180

145

120

360

4-M16

180

80

46

195

160

135

390

4-M16

220

100

52

215

180

155

440

8-M16

220

125

56

245

210

185

510

8-M16

230

150

56

280

240

210

600

8-M20

280

200

60

335

295

265

700

8-M20

360

250

68

390

350

320

840

12-M20

360

300

78

440

400

368

960

12-M20

400

350

78

500

460

428

1110

16-M20

400

400

102

565

515

482

1250

16-M22

400

450

114

615

565

532

1380

20-M22

530

500

127

670

620

585

1530

20-M22

530

600

154

780

725

685

1800

20-M27

600

700

165

895

840

800

2150

24-M27

600

800

190

1010

950

898

2420

24-M30

680

900

203

1110

1050

1005

2680

28-M30

680

1000

216

1220

1160

1115

3100

28-M30

700

1200

254

1450

1380

1325

3450

32-M36

800

1.6

50

43

160

125

99

330

4-M16

180

65

46

185

145

120

360

4-M16

180

80

46

200

160

135

390

8-M16

220

100

52

220

180

155

440

8-M16

220

125

56

250

210

185

510

8-M16

230

150

56

285

240

210

600

8-M20

280

200

60

340

295

265

700

12-M20

360

250

68

405

355

310

840

12-M22

360

300

78

460

410

375

960

12-M22

400

350

78

520

470

435

1110

16-M22

400

400

102

580

525

485

1250

16-M27

400

450

114

640

585

545

1380

20-M27

530

500

127

715

650

609

1530

20-M30

530

600

154

840

770

720

1800

20-M36

600

700

165

910

840

788

2150

24-M36

600

800

190

1025

950

898

2420

24-M36

680

900

203

1125

1050

998

2680

28-M36

680

1000

216

1255

1170

1110

3100

28-M42

700

1200

254

1485

1390

1325

3450