Product Features:
·BLAQ small size electric ball valve uses BL series electric actuator.
·Receiving directly output signal such as 4 ~ 20 mA DC or 1 ~ 5 V DC control signal from computer or industrial instrument, compared the set value according to the valve position feedback signal, to smart actuators interval adjustment (PID), so as to realize the valve accurate positioning, at the same time output 4 ~ 20 mA DC position feedback signal.
·Small volume, light, reliable performance, simple invention, large flow capacity.
·Particularly suitable for thick medium , including particle and fiber properties.
·Widely used in industrial control system such as cement, food, environmental protection, light industry, petroleum, paper making, chemical industry, teaching and scientific research equipment, electric power industries.
Electric Actuator Main Parameters:
Power Supply: DC24V, AC110V, AC220V, AC380V, 50/60Hz;
Input Signal: 4-20mA DC, 1-5V DC (for selected);
Output Signal: 4-20mA DC (for selected);
Environmental Temperature: -25℃~+60℃;
Protection Grade: IP67.
Property Parameter
Nominal diameter

(mm)

DN15~DN100

Nominal pressure(MPa)

PN1.6 2.5 4.0

Leakage

Soft seal:Zero Leakage

Hard seal:≤ rated flow 10-5

Flow characteristics

Fast open

Applicable temperature

Seal

PTFE≤150℃ RTFE≤180℃ PPL≤300℃ Hard seal≤450℃
Main Spare Parts Material
Spare Parts

Material

Body

WCB

ZG1Cr18Ni9Ti

CF8

(304)

CF3

(304L)

ZG1Cr18Ni12Mo2Ti

CF8M

(316)

CF3M

(316L)

Ball, Stem

2Cr13

1Cr18Ni9Ti

0Cr19Ni9

(304)

00Cr19Ni11

(304L)

1Cr18Ni12Mo2Ti

0Cr17Ni12Mo2

(316)

00Cr17Ni12Mo2

(316L)

Seal

PTFE、PPL、Para polystyrene, Flexible graphite

Applicable medium

Water, gas, steam, oil, etc

Corrosion medium such as Nitric acid

Strong oxidizing medium

Corrosion medium such as Acetic acid

Urea and other corrosive medium
Test Pressure
Test Pressure

(MPa)

Nominal pressure(MPa)

1.6

2.5

4.0

Strength

2.4

3.8

6.0

Seal

1.8

2.8

4.4
Dimension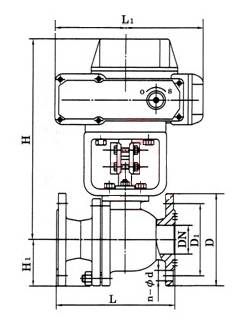 | | | | | | | | | |
| --- | --- | --- | --- | --- | --- | --- | --- | --- |
| Nominal diameter | L | D | H | L1 | D1 | b | n-φd | H1 |
| Pressure, MPa | 1.6/2.5/4.0 | 1.6/2.5/4.0 | | | 1.6/2.5/4.0 | 1.6/2.5/4.0 | 1.6/2.5/4.0 | |
| DN15 | 130/130/140 | 95 | 275 | 157 | 65 | 14/16/16 | 4-14 | 48 |
| DN20 | 140/140/150 | 105 | 280 | 157 | 75 | 14/16/16 | 4-14 | 53 |
| DN25 | 150/150/165 | 115 | 287 | 157 | 85 | 14/16/16 | 4-14 | 58 |
| DN32 | 165/165/180 | 135 | 354 | 208 | 100 | 16/16/18 | 4-18 | 68 |
| DN40 | 180/180/200 | 145 | 312 | 208 | 110 | 16/16/18 | 4-18 | 73 |
| DN50 | 200/200/220 | 160 | 325 | 208 | 125 | 16/20/20 | 4-18 | 80 |
| DN65 | 220/220/250 | 180 | 335 | 256 | 145 | 18/22/22 | 4-18/8-18/8-18 | 90 |
| DN80 | 250/250/280 | 195 | 365 | 256 | 180 | 20/22/22 | 8-18 | 98 |
| DN100 | 280/280/320 | 215/230/230 | 400 | 256 | 180/190/190 | 20/24/24 | 8-18/8-23/8-23 | 120 |