Product Features:
·Three-eccentric hard seal electric flange butterfly valve is long service and energy-saving.
·In line with relevant provisions in China standard "JB/T8527-97metal seal butterfly valve","GB/T13927-92 universal valve pressure test".
·It is made up of valve body, disc, seal ring, transmission, etc.
·The valve is designed with three-dimensional eccentric principles in structure, flexible sealing as well hard and soft multilayer sealing compatible processing of new technology, so that when the valve is running work , it just needs small torque to achieve labor-saving and energy-saving effect.
·Anti-corrosion, high temperature resistance, wear resistance, and excellent performance.
·Good sealing performance can achieve zero leakage
·Suitable for food, pharmaceutical, petrochemical, power plants, steel mills, industrial environmental protection, water treatment and construction industries, as cutting off or connecting with the media in the pipeline
Electric Actuator Main Parameters:
Power Supply: 380V 50Hz (for selected);
Working Environment: Environmental Temperature: -20℃~+60℃; Relative Humity:≤90(25℃)(surrounding air does not have corrosive elements);
Protection Grade: IP65;
Working Duty: Short duty, rated working time is 10 minutes.
Dimension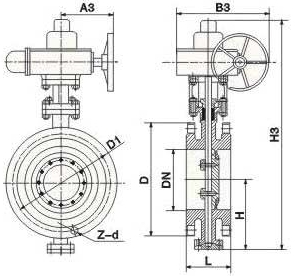 Nominal diameter, DN

Face to faceL

Dimension

(For reference)

Connection

(Standard)

Weight

H

Dd943H

PN0.6MPa

PN1.0MPa

mm

inch

短

长

H3

A3

B3

D

D1

z- d

D

D1

z- d

50

2

108

150

112

530

250

255

140

110

4-14

165

125

4-18

17

65

5/2

112

170

115

530

250

255

160

130

4-14

185

145

4-18

20

80

3

114

180

120

565

250

255

190

150

4-18

200

160

8-18

23

100

4

127

190

138

600

250

255

210

170

4-18

220

180

8-18

25

125

5

140

200

164

640

250

255

240

200

8-18

250

210

8-18

40

150

6

140

210

175

705

300

315

165

225

8-18

285

240

8-22

47

200

8

152

230

200

775

300

315

320

280

8-18

340

295

8-22

60

250

10

165

250

243

945

300

315

375

335

12-18

395

350

12-22

95

300

12

178

270

250

1070

300

315

440

395

12-22

445

400

12-22

124

350

14

190

290

280

1140

300

315

490

445

12-22

505

460

16-22

181

400

16

216

310

305

1210

300

315

540

495

16-22

565

515

16-26

260

450

18

222

330

350

1335

575

714

595

550

16-22

615

565

20-26

338

500

20

229

350

380

1415

575

714

645

600

20-22

670

620

20-26

360

600

24

267

390

445

1605

656

810

755

705

20-26

780

725

20-30

540

700

28

292

430

480

1844

656

810

860

810

24-26

895

840

24-30

580

800

32

318

470

530

2040

656

810

975

920

24-30

1015

950

24-33

845

900

36

330

510

580

2255

785

863

1075

1020

24-30

1115

1050

28-33

1050

1000

40

410

550

650

2380

785

863

1175

1120

28-30

1230

1160

28-36

1500

1200

48

470

630

760

2640

785

863

1405

1340

32-33

1455

1380

32-39

2000

1400

56

530

710

850

2886

8410

890

1630

1560

36-36

1675

1590

36-42

3000

1600

64

600

790

1030

3156

810

890

1830

1760

40-36

1915

1820

40-48

4700

1800

72

670

870

1230

3421

830

930

2045

1970

44-39

2115

2020

44-48



Nominal diameter, DN

Face to faceL

Dimension

(For reference)

Connection

(Standard)

Weight

H

Dd943H

PN1.6MPa

PN2.5MPa

mm

inch

短

长

H3

A3

B3

D

D1

z- d

D

D1

z- d

50

2

108

150

112

530

250

255

165

125

4-18

165

125

4-18

19

65

5/2

112

170

115

530

250

255

185

145

4-18

185

145

8-18

22

80

3

114

180

120

565

250

255

200

160

8-18

200

160

8-18

25

100

4

127

190

138

600

250

255

220

180

8-18

235

190

8-22

28

125

5

140

200

164

640

250

255

250

210

8-18

270

220

8-26

43

150

6

140

210

175

705

300

315

285

240

8-22

300

250

8-26

50

200

8

152

230

200

775

300

315

340

295

12-22

360

310

12-26

64

250

10

165

250

243

945

300

315

405

355

12-26

425

370

12-30

99

300

12

178

270

250

1070

300

315

460

410

12-26

485

430

16-30

130

350

14

190

290

280

1140

300

315

520

470

16-26

555

490

16-33

188

400

16

216

310

305

1210

300

315

580

525

16-30

620

550

16-36

270

450

18

222

330

350

1335

575

714

640

585

20-30

670

600

20-36

350

500

20

229

350

380

1415

575

714

715

650

20-33

730

660

20-36

375

600

24

267

390

445

1605

656

810

840

770

20-36

845

770

20-39

560

700

28

292

430

480

1844

656

810

910

840

24-36

960

875

24-42

610

800

32

318

470

530

2040

656

810

1025

950

24-39

1085

990

24-48

880

900

36

330

510

580

2255

785

863

1125

1050

28-39

1185

1090

28-48

1100

1000

40

410

550

650

2380

785

863

1255

1170

28-42

1320

1210

28-56

1600

1200

48

470

630

760

2640

785

863

1485

1390

32-48

1530

1420

32-56

2150

1400

56

530

710

850

2886

810

890

1685

1590

36-48

1755

1640

36-60

3200

1600

64

600

790

1030

3156

810

890

1930

1820

40-55

1975

1860

40-60

5000

1800

72

670

870

1230

3421

830

930

2130

2020

44-55

2195

2070

44-68