Product Features:
·Using Bell series actuator, with igh regulation accuracy & fault alarm function.
·It can add function like Local display, remote control and Bus controlling
·Good performance for anti-corrosion, anti-high temperature and anti-abrasion.
·Good mechanical performance and sealing performance can achieve zero leakage.
Electric Actuator Main Parameters:
· Input/Output Singal: 4~20mA DC;
· Input Resistance: 250 OHM;
· Basic Error: ±1%;
· Deadline: 0.5%~3%(continuously adjustable);
· Power Supply: Three-Phase 380V 50Hz; Single-Phase 220V 50Hz(for selected);
· Working Environmental Temperature: Integral-type -10℃~+55℃; Separate-type -25℃~+70℃ ;
· Humity: ≤85%(surrounding air does not have corrosive elements);
· Protection Grade: IP65; Bus type & Intelligent type IP67;
· Communication Interface: Bus type conforms to PROFIBUS-DP.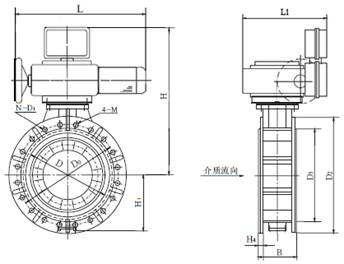 DN

mm

Electric actuator




Output torque, Nm

L

L1

H

B

D

H1

PN1.0MPa

H4

D0

D3

D2

N-D1

4-M

100

BELL-25

250

493

300

685

127

120

105

22

180

156

220

4-Φ18

4-M16

125

700

140

142

110

22

210

184

250

4-Φ18

4-M16

150

BELL-60

600

605

360

720

140

166

135

24

240

211

285

4-φ22

4-M20

200

BELL-160

1600

612

372

864

152

216

160

24

295

266

340

4-φ22

4-M20

250

904

165

260

270

26

350

319

395

4-φ22

4-M20

300

BELL-250

2500

612

491

944

178

315

285

26

400

370

445

4-φ22

4-M20
DN

mm

Electric actuator




Output torqueNm

L

L1

H

B

D

H1

PN1.6MPa

PN2.5MPa

H4

D0

D3

D2

N-D1

4-M

H4

D0

D3

D2

N-D1

4-M

100

BELL-

25

250

493

300

685

127

120

105

22

180

156

220

4-Φ18

4-M16

24

190

156

235

4-φ22

4-M20

125

700

140

142

110

22

210

184

250

4-Φ18

4-M16

26

220

184

270

4-φ26

4-M24

150

BELL-

60

600

605

360

720

140

166

135

24

240

211

285

4-φ22

4-M20

28

250

211

300

4-φ26

4-M24

200

BELL-

160

1600

612

372

864

152

216

160

24

295

266

340

4-φ22

4-M20

30

310

274

360

4-φ26

4-M24

250

904

165

260

270

26

355

319

405

4-φ26

4-M24

32

370

330

425

4-Φ30

4-M27

300

BELL-

250

2500

612

491

944

178

315

285

28

410

370

460

4-φ26

4-M24

34

430

389

485

4-Φ30

4-M27
Working Pressure PN1.0MPa Size DN350~DN2000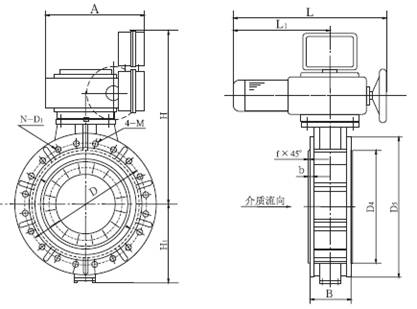 DN

mm

Actuator

H

H1

B

L

L1

A

D

D4

D5

N-D1

4-M

f

b

350

BELL-

250

661

320

190

612

412

491

460

429

505

12-φ22

4-M20

4

26

400

BELL-

400

706

365

216

515

480

565

12-φ26

4-M24

4

26

450

740

402

222

565

530

615

16-φ26

4-M24

4

28

500

746

408

229

620

582

670

16-φ26

4-M24

4

28

600

833

495

267

725

682

780

16-φ30

4-M27

4

30

700

BELL-

600

915

554

292

580

390

750

840

794

895

20-φ30

4-M27

5

30

800

BELL-

800

974

613

318

620

413

876

950

901

1015

20-φ33

4-M30

5

32

900

1024

663

330

1050

1001

1115

24-φ33

4-M30

5

34

1000

BELL-

1000

1082

721

410

1160

1112

1230

24-φ36

4-M33

5

34

1200

BELL-

1200

1194

833

470

630

423

1380

1328

1455

28-φ39

4-M36

5

38

1400

1304

943

530

1590

1530

1675

32-φ42

4-M39

5

42

1600

BELL-

1600

1424

1063

600

612

412

936

1820

1750

1915

36-φ48

4-M45

5

46

1800

1524

1163

670

2020

1950

2115

40-φ48

4-M45

5

50

2000

BELL-

2000

1629

1268

760

2230

2150

2325

44-φ48

4-M45

5

54