Features
· Globe valve opening and closing parts are plug-shaped Valve flap, Seal appear before plane or cone,Valve flap do linear movement along the center line of the fluid.
· Globe Valve is only applicable to fully open and fully closed, Not allowed to be adjusted and the throttle.
· Globe valve is mandatory sealed valve,Therefore when valve close,Pressure must be applied to the Valve flap,To force the sealing surface does not leak.
· Medium flow of Globe Valve,from up to down, to reduce stem stress.
· globe valve is opening, valve flap opening height achieve to 25% to 30% of nominal diameter,the maximum flow rate can be achieved.
Parts materials & Suitable medium
Body

Bonnet

Valve flap

Sealing surface

Stem

Packing

Suitable medium

WCB

WCB+D507MO

D577

2Cr13

Flexible graphite

Water, oil, steam

ZG1Cr18Ni9Ti

0Cr18Ni9Ti

Stellite6

1Cr18Ni9Ti

PTFE

Nitric acid

Stellite12

ZG1Cr18Ni2Mo2Ti

CF8M

1Cr18Ni2Mo2Ti

1Cr18Ni2Mo2Ti

PTFE

Phosphoric acids

Stellite12

Alkalis,Mixed acid

ZG0Cr17Ni14M02

CF3M

Stellite6

316L

PTFE

Phosphoric acids

Stellite12

Urea, methylamine solution

ZG1Cr5MO

ZG1Cr5MO

Stellite6

25Cr2Mo1VA

Flexible graphite

Water, oil, steam

Stellite12
Overall dimensions Chart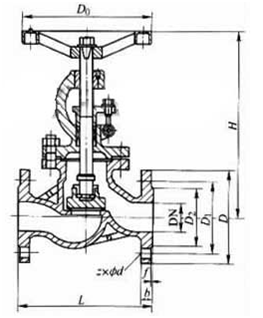 Normal Pressure

Normal Diameter

Standard Value

Reference Value

PN

(MPa)

DN

(mm)

L

D

D1

D2




b

n-φd

D0

H

Weight

(kg)

1.6

25

160

115

85

65




14

4-φ14

160

253

8

32

180

135

100

78




15

4-φ18

160

280

12

40

200

145

110

85




16

4-φ18

200

312

16

50

230

160

125

100




16

4-φ18

200

321

16

65

290

180

145

120




18

4-φ18

240

325

22

80

310

195

160

135




20

8-φ18

240

355

31

100

350

215

180

155




20

8-φ18

280

415

45

125

400

245

210

185




22

8-φ18

320

460

80

150

480

280

240

210




24

8-φ23

360

510

97

200

600

335

295

265




26

12-φ23

360

590

169

2.5

25

160

115

85

65




16

4-φ14

160

285

7.5

32

180

135

100

78




18

4-φ18

180

302

8.5

40

200

145

110

85




18

4-φ18

200

355

12.5

50

230

160

125

100




20

4-φ18

240

362

16

65

290

180

145

120




22

8-φ18

280

325

25

80

310

195

160

135




22

8-φ18

280

369

30

100

350

230

190

160




24

8-φ23

300

370

35

125

400

270

220

188




28

8-φ25

400

558

89

150

480

300

250

218




30

8-φ25

400

611

98

200

600

360

310

278




34

12-φ25

400

721

170