Product Features:
·Rubber full lining, the rubber is vulcanized in the inner wall of the valve, without any leakage in the connecting point
·Tight rubber lining, avoiding redundant and movement, highly reliable and durable.
·Seal design of the valve is reasonable, small torque, high pressure seals, and no bubble.
·The valve is flanged, neutral, and can be used at the end of pipeline.
·Using Bell series actuator, with high regulation accuracy & fuction of motor overheating, over-torque protection. BELL series actuator can also be upgraded with local display, remote control or bus intelligent actuators.
Performance Specification:
Body Material: Cast Iron, Cast Steel, Stainless Steel
Seal Ring Materials:
EPDM -40~+125℃
NBR -20~+82℃
SI -70~+150℃
VITON -23~+150℃
PTFE +10~+150℃
Applicable medium: Fresh water, sewage, sea water, air, steam, food, drug, various oil, acid, alkali, salt, etc.
Electric Actuator Main Parameters:
· Input/Output Singal: 4~20mA DC;
· Input Resistance: 250 OHM;
· Basic Error: ±1%;
· Deadline: 0.5%~3%(continuously adjustable);
· Power Supply: Three-Phase 380V 50Hz; Single-Phase 220V 50Hz(for selected);
· Working Environmental Temperature: Integral-type -10℃~+55℃; Separate-type -25℃~+70℃ ;
· Humity: ≤85%(surrounding air does not have corrosive elements);
· Protection Grade: IP65; Bus type & Intelligent type IP67;
· Communication Interface: Bus type conforms to PROFIBUS-DP.
Dimension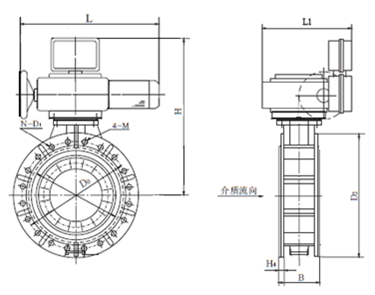 DN

mm

Electric

actuator

Output torque, Nm

L

L1

H

B

H4

PN1.0MPa

PN1.6MPa

N-D1

D0

D2

D0

D2

1.0MPa

1.6MPa

100

BELL-25

250

493

300

485

127

20

180

220

180

220

8-Φ18

8-Φ18

125

510

140

22

210

250

210

250

8-Φ18

8-Φ18

150

BELL-25

535

140

22

240

285

240

285

8-φ22

8-φ22

200

BELL-25

565

152

24

295

340

295

340

8-φ22

12-φ22

250

585

165

24

350

390

355

405

12-φ22

12-φ26

300

BELL-60

600

605

360

635

178

26

400

440

410

460

12-φ22

12-φ26

350

BELL-100

1000

520

408

585

190

26

460

500

470

520

16-φ22

16-φ26

400

BELL-160

1600

612

372

700

216

28

515

565

525

580

16-φ26

16-φ30

450

BELL-250

2500

612

491

730

222

30

565

615

585

640

20-φ26

20-φ30

500

BELL-400

4000

612

491

770

229

32

620

670

650

715

20-φ26

20-φ33

600

BELL-400

835

267

34

725

780

770

840

20-φ30

20-φ36

700

BELL-600

6000

580

750

896

292

36

840

895

840

910

24-φ30

24-φ36

800

BELL-1000

10000

620

924

955

318

36

950

1015

950

1025

24-φ30

24-φ39

900

1005

330

40

1050

1115

1050

1125

28-φ33

28-φ39

1000

1070

410

42

1160

1230

1170

1255

28-φ36

28-φ42