Product Features:
·Strong flow capacity, rational construction, small opening/closing torque, hard to jammed.
·Good performance for anti-corrosion, anti-high temperature and anti-abrasion.
·Good mechanical performance and sealing performance can achieve zero leakage.
·Using DKJ series electric actuators, easy for installation and maintenance, economic, used for cut off or connect the media in the pipeline.
Property Parameter
Nominal Diameter, DN

100~1000




mm

Nominal Pressure,PN

1.0

1.6

2.5




MPa

Test Pressure

Seal

1.1

1.76

1.1




Shell

1.5

2.4

1.5




Applicable medium

Air, water, vapor, gas and slightly corrosive medium such as acids, alkali and

salt

Leakage

Execute performance experiment on valve according to Metallic seal butterfly

valve, JBT8527-97, to achieve zero leakage.
Main Spare Parts Material
Body

Disc

Spindle

Valve Disc

Seal Ring

Shaft Sleeve

Packing

Q235-A

0Cr19Ni9

0Cr19Ni12Mo2Ti

Q235-A

0Cr19Ni9

0Cr19Ni12Mo2Ti

1Cr17Ni2




Stainless steel

& composites

SJ-1

ZCuZn38Mn2Pb2

Graphite
Pressure-Temperature Rating
Max.Temperature

℃

≤20

100

150

200

250

300

350

Body

Material

Nominal

pressure

MPa




0.25

0.25

0.25

0.225

0.2

0.175

0.15

-

Carbon

Steel

0.6

0.6

0.6

0.54

0.48

0.42

0.36

-

1.0

1.00

1.00

0.9

0.80

0.70

0.60

-

1.6

1.60

1.60

1.44

1.28

1.12

0.96

-

2.5

2.50

2.50

2.50

2.25

2.00

1.75

1.50

0.25

0.238

0.215

0.201

0.189

0.177

0.166

0.159

Stainless

Steel

0.6

0.57

0.52

0.48

0.45

0.42

0.40

0.38

1.0

0.95

0.86

0.81

0.76

0.71

0.66

0.63

1.6

1.52

1.31

1.29

1.21

1.13

1.06

1.01

2.5

2.38

2.15

2.01

1.89

1.77

1.66

1.59
Electric Actuator Main Parameters:
· Input Singal: ON-Off Value;
· Output Singal: 4~20mA DC;
· Power Supply: Single-Phase 220V 50Hz;
· Working Environmental Temperature: -10℃~+55℃;
· Humity: ≤95%(surrounding air does not have corrosive elements);
Dimension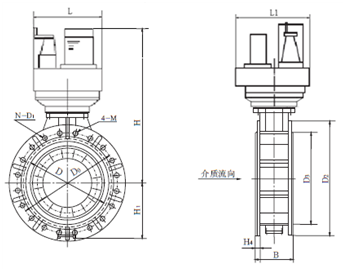 DN

mm

Electric actuator




Output Torque, Nm

L

L1

H

B

D

H1

PN1.0MPa

H4

D0

D3

D2

N-D1

4-M

100

DKJ-

3100

250

270

330

622

127

120

105

22

180

156

220

4-Φ18

4-M16

125

DKJ-

3100

250

270

330

637

140

142

110

22

210

184

250

4-Φ18

4-M16

150

DKJ-

4100

600

368

428

692

140

166

135

24

240

211

285

4-φ22

4-M20

200

DKJ-

5100

1600

424

484

813

152

216

160

24

295

266

340

4-φ22

4-M20

250

DKJ-

5100

1600

424

484

853

165

260

270

26

350

319

395

4-φ22

4-M20

300

DKJ-

6100A

2500

424

484

893

178

315

285

26

400

370

445

4-φ22

4-M20
DN

mm

Electric actuator




Output Torque, Nm

L

L1

H

B

D

H1

PN1.6MPa

PN2.5MPa

H4

D0

D3

D2

N-D1

4-M

H4

D0

D3

D2

N-D1

4-M

100

DKJ-

3100

250

270

330

622

127

120

105

22

180

156

220

4-Φ18

4-M16

24

190

156

235

4-φ22

4-M20

125

DKJ-

3100

250

270

330

637

140

142

110

22

210

184

250

4-Φ18

4-M16

26

220

184

270

4-φ26

4-M24

150

DKJ-

4100

600

368

428

692

140

166

135

24

240

211

285

4-φ22

4-M20

28

250

211

300

4-φ26

4-M24

200

DKJ-

5100

1600

424

484

813

152

216

160

24

295

266

340

4-φ22

4-M20

30

310

274

360

4-φ26

4-M24

250

DKJ-

5100

1600

424

484

853

165

260

270

26

355

319

405

4-φ26

4-M24

32

370

330

425

4-Φ30

4-M27

300

DKJ-

6100A

2500

424

484

893

178

315

285

28

410

370

460

4-φ26

4-M24

34

430

389

485

4-Φ30

4-M27