Product Features:
·V type ball valve are fixed and single seat sealing ball valves.
·Its regulation performance is the best in ball valve. Flow characteristic is equal percentage, with adjustable ratio of 100:1.
·Ball valve rotates 90 ° to complete fully open/close fast. Low friction coefficient and small operating torque .
·Handle operation, the valve have lock hole in full open/close position, to ensure that the valve is in the right place.
·There is shearing action between v-shaped incision and metal seat. It's especially suitable for fiber, tiny solid particles and slurry medium.
Spare parts Material
Spare parts

Material

Carbon steel

Stainless steel

GB

ASTM

GB

ASTM

Body/Bonet

WCB

A216-WCB

ZG1Cr18Ni9Ti
ZG1Cr18Ni12Mo2Ti

A351-CF8
A351-CF8M
A351-CF3
A351-CF3M

Ball

2Cr13
1Cr18Ni9

A276-304

Stem

2Cr13

276-410

1Cr18Ni9Ti
1Cr18Ni12Mo2Ti

A276-304;A276-304L
A276-316;A276-316L

Seal ring

PTFE/Nylon/fill the F4 /carbon fiber/2Cr13+STL

Packing/Gasket

PTFE/Asbestos packing/flexible graphite

Nut

35

A105-1035

Stainless steel

Double end bolt

35CrMoA

A193-B7

Stainless steel
Dimension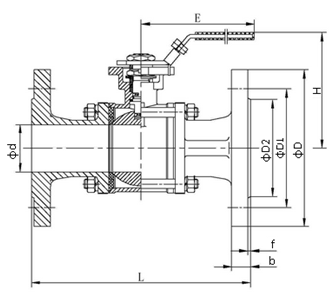 Rating

Nominal diameter, DN

L

d

D

D1

D2

b

f

Z-Φdo

H

E

PN16

25

150

25

115

85

65

14

2

4-14

90

170

32

165

32

135

100

78

16

2

4-18

107

200

40

180

38

145

110

85

16

3

4-18

127

250

50

200

51

160

125

100

16

3

4-18

140

250

65

220

64

180

145

120

18

3

4-18

164

350

80

250

76

195

160

135

20

3

8-18

177

350

100

280

102

215

180

155

20

3

8-18

206

420

125

320

127

245

210

185

22

3

8-18

292

700

150

360

152

280

240

210

24

3

8-23

320

1000

200

400

203

335

295

265

26

3

12-23

365

1300

PN25

25

150

25

115

85

65

14

2

4-14

90

170

32

165

32

135

100

78

16

2

4-18

107

200

40

180

38

145

110

85

16

3

4-18

127

250

50

200

51

160

125

100

20

3

4-18

140

250

65

220

64

180

145

120

22

3

8-18

164

350

80

250

76

195

160

135

22

3

8-18

177

350

100

320

102

230

190

160

24

3

8-23

206

420

125

360

127

270

220

188

28

3

8-25

292

700

150

400

152

300

250

218

30

3

8-25

320

1000

200

550

203

360

310

278

34

3

12-25

365

1300

PN40

25

165

25

115

85

65

16

2

4-14

90

170

32

178

32

135

100

78

18

2

4-18

107

200

40

190

38

145

110

85

18

3

4-18

127

250

50

220

51

160

125

100

20

3

4-18

140

250

65

250

64

180

145

120

22

3

8-18

164

350

80

280

76

195

160

135

22

3

8-18

177

350

100

320

102

230

190

160

24

3

8-23

206

420

125

400

127

270

220

188

28

3

8-25

292

700

150

400

152

300

250

218

30

3

8-25

320

1000

200

550

203

375

320

282

38

3

12-30

365

1300