Product Features:

·V type ball valve are fixed and single seat sealing ball valves.
·Its regulation performance is the best in ball valve. Flow characteristic is equal percentage, with adjustable ratio of 100:1.
·There is shearing action between v-shaped incision and metal seat. It's especially suitable for fiber, tiny solid particles and slurry medium.
·V type ball valve regulating performance is good, used as a regulator.
·With BAW angular travel series pneumatic actuators, it can control a large V type ball valve.
·The pneumatic actuator must be with positioner to modulate the opening degree of valve.
Technical parameter
| | |
| --- | --- |
| Body type | Ball |
| Nominal diameter | DN25~DN300 |
| Nominal pressure | PN1.6 2.5 4.0 6.4MPa |
| Connection | Flange JB79-59等 RF |
| Body | Cast steel, stainless steel |
| Packing | V-type PTFE, asbestos, graphite |
| Trim | Stainless steel, carbon steel platinum plating, etc |
| Leakge | <rated capacity 的10-8 |
Main Parameters of Actuator
1、Medium:Clean, dry and no-corrosive compressed air
2、Working gas pressure:0.3~0.7MPa
3、Working condition temperature:Standard type:-20℃~+80℃
High temperature type:-20℃~+180℃
4、Rotary angle:90°±3°
5. Positioner input/output sinal: 4-20mA(others for choice)
Dimension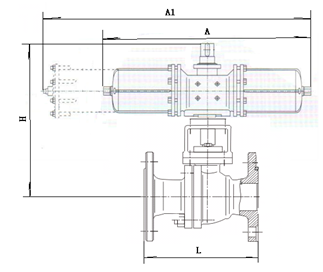 Nominal diameter DN

25

40

50

65

80

100

150

200

L

1.6MPa

140

180

200

220

250

280

360

500

2.5MPa

160

200

220

250

280

320

360

500

4MPa

160

200

220

250

280

320

360

500

6.4MPa

180

220

250

280

320

360

500

600

H

422

442

506

516

526

598

705

735

A












600

800

800