Product Features:
·O ball valves are usually used as cut-off valves.
·Its flow is simple and fully forms straight channel when full open,with minimum pressure loss.
·Specially, it's suitable for high viscosity, suspension occasions, such as pulp fluid.
·Reliable sealing, very small leakage. Soft seal ball valves can reach bubble level seal.
·Matching BGT series quarter-turn actuators, it can control a smaller O-type ball valve.
·Pneumatic actuator is matched with solenoid valve to control the opening and closing of the valve.
Technical parameter
| | |
| --- | --- |
| Body type | Ball |
| Nominal diameter | DN25~DN300 |
| Nominal pressure | PN1.6 2.5 4.0 6.4MPa |
| Connection | Flange JB79-59等 RF |
| Body | Cast steel, stainless steel |
| Packing | V-type PTFE, asbestos, graphite |
| Trim | Stainless steel, carbon steel platinum plating, etc |
| Leakge | <rated capacity 的10-8 |
Main Parameters of Actuator
1、Medium:Clean, dry and no-corrosive compressed air
2、Working gas pressure:0.4~0.7MPa
3、Working condition temperature:Standard type:-20℃~+80℃
High temperature type:-20℃~+180℃
4、Rotary angle:90°±3°
5、Supply voltage of the equipped solenoid valve is available to:24VDC、24VAC 50Hz、110VAC 50Hz、220VAC 50Hz
Dimension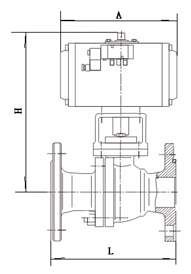 Unit:mm
Nominal diameter DN

25

40

50

65

80

100

150

200

L

1.6MPa

140

180

200

220

250

280

360

500

2.5MPa

160

200

220

250

280

320

360

500

4MPa

160

200

220

250

280

320

360

500

6.4MPa

180

220

250

280

320

360

500

600

H

279

299

388

398

408

476

610

640

A

125

125

294

294

294

378

603

603