Overview
DKJ quarter-turn 、DKZ linear turn Is the earliest, only production electric actuators. It is the period of China's economic plan, the national jointly unified design products.
Our engineers earliest participated in this work,for DKJ, DKZ products to market have contributed,also for the professional development of enterprises laid a foundation。This product structure is simple, economical and practical advantages is the earliest use of state-owned large enterprises.
 With the development of modern industrial computer management,Today, our DKJ, DKZ compared with the previous series,With 2 large substantial improvements ① produce directly affected by computer-controlled intelligent electronic type, outdoor type, flameproof and other improved products ② The circuit control section encapsulated in a small plastic box,Commonly known as modules, Forming a plug and play ease of maintenance,Adjusted higher accuracy and longer life.
 Our products are the most standard installation dimensions, has played a role for many large enterprises renovation project.
 DKJ、DKZ is the most simple structure product which our company produced,But escalating function,It has introduced new products. As long-term stability & outstanding supplier of DKJ、DKZ series products ,We follow the industrial changes,Provide long-term strength of protection for users continue to use the product and technical support.
Normal series actuator models and Dimensions
DDKJ quarter-turn electric actuator (outdoor type, electronic type, see table below diagram):
Model

Rated load

Nm

Power

KW

Rated travel

Rated travel time

s

4—20mA(Ⅲ)Type

0—10mA(Ⅱ)Type

DKJ-2100

DKJ-210

100

0.016

90°

25

DKJ-3100

DKJ-310

250

0.025

90°

25

DKJ-4100

DKJ-410

600

0.08

90°

25

DKJ-5100

DKJ-510

1600

0.18

90°

25

DKJ-6100A

DKJ-610A

2500

0.18

90°

40

DKJ-6100

DKJ-610

4000

0.35

90°

60

DKJ-7100

DKJ-710

6000

0.45

90°

100

DKJ-8100

DKJ-810

10000

0.5

90°

100
DKJ installation diagram


DKZ installation diagram: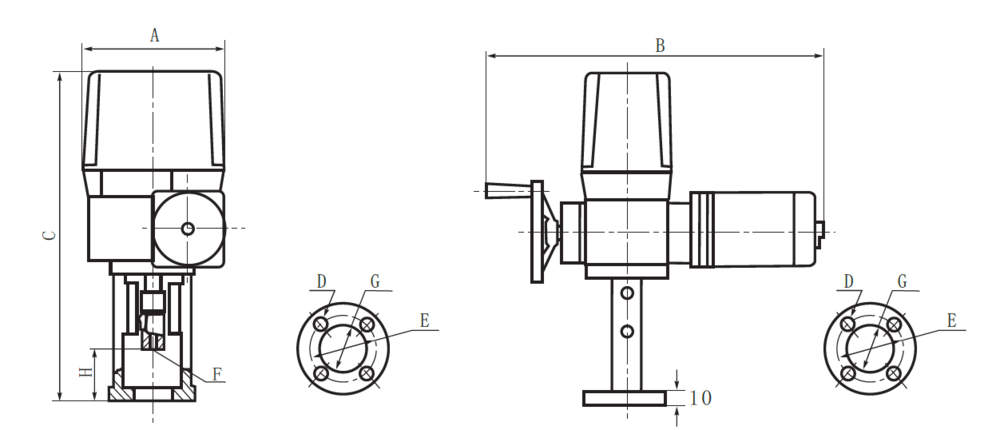 DKZ Linear electric actuator (outdoor type, electronic under the same):
Model

Stroke

mm

Output shaft thrust

N

Travel time

s

4—20mA(Ⅲ)Type

0—10mA(Ⅱ)Type

DKZ-4100

ZKZ-3100

DKZ-410

ZKZ-310

10

4000

7.5

DKZ-4200

ZKZ-3200

DKZ-420

ZKZ-320

16

4000

12

DKZ-4300

ZKZ-3300

DKZ-430

ZKZ-330

25

4000

18.75

DKZ-5400

ZKZ-4400

DKZ-540

ZKZ-440

40

6400

32

DKZ-5500

ZKZ-4500

DKZ-550

ZKZ-450

60

6400

48

DKZ-5600

ZKZ-4600

DKZ-560

ZKZ-460

100

16000

60
working principle
DKJ, DKZ series electric actuator is the terminal control device of industrial process measurement and control system,It is able to convert system control signals into angular displacement of the output shaft, linear displacement, to Control valves, etc.Closure elements 's position Or other adjustment mechanism,The controlled media work according tosystem predetermined state.
Electric actuator according to control mode is divided by proportional type and integral type. Proportional type actuator is composed with electric servo amplifier and integral actuator, it could compare (closed loop control) system control signal and feedback signal of output shaft position,To change the stroke of the output shaft,to be Proportional relationship with output signal。Integral actuator is consisting of servo motor, reducer and position transmitter,it could work together with electric operater to achieve remote operation for valves and other Adjustment mechanism.
The main technical parameters of the electric actuator
DKJ, DKZ series electric actuator are manufactured according to the PRC's GB11922-89 standard
1. Input signal: electric type: 4--20mA DC or 0--10mA DC; common type: on-off signal
2. Input resistance: 250 Ω or 200 Ω
3. Input passage: common type – 3 amplifiers; electric type -1 amplifier
4. Basic error: 2.5%
5. Deviation: ≤1.5%
6. Deadline: ≤3%
7. Damping characteristic: ≤ three and half period
8. Power supply: single-phase 220V 50Hz,three-phase 380V 50Hz
9. Operating environment: temperature: -10℃-- +55℃
Humidity ≤95% the surrounding air does not include the corrosive elements.