Product Features:
·Compact structure, reliable sealing performance, long service life
·Widely used in fluid pipeline control system if water plant, power plant, steel mill, paper mill, chemical plant and buildings, acting as regulator of medium in the pipeline.
·Soft seal middle line butterfly valve advantages is good sealing performance.
·The advantages of hard sealing butterfly valve is high temperature,abrasion resistance,good mechanical properties.
Electric Actuator Main Parameters:
· Input/Output Singal: 4~20mA DC;
· Input Resistance: 250 OHM;
· Basic Error: ±1%;
· Deadline: 0.5%~3%(continuously adjustable);
· Power Supply: Three-Phase 380V 50Hz; Single-Phase 220V 50Hz(for selected);
· Working Environmental Temperature: Integral-type -10℃~+55℃; Separate-type -25℃~+70℃ ;
· Humity: ≤85%(surrounding air does not have corrosive elements);
· Protection Grade: IP65; Bus type & Intelligent type IP67;
· Communication Interface: Bus type conforms to PROFIBUS-DP.
Dimension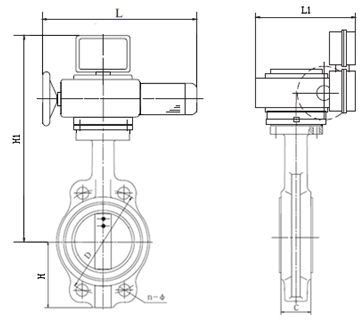 Nominal diameter DN

Electric

actuator

Torque

Nm

H

D

n-φ

C

L

L1

H1

mm

inch

40

BELL-10

100

65

110

4-φ18

33

410

340

327

50

2"

80

120

4-φ23

42

378

65

89

136.2

4-φ26.5

44.7

392

80

3"

95

160

8-φ18

45.2

398

100

4"

BELL-25

250

114

185

4-φ24.5

52.1

493

300

536

125

5"

127

218

4-φ23

54.4

549

150

6"

139

238

4-φ25

55.8

562

200

8"

175

295

4-φ25

60.6

596

250

10"

203

357

4-φ29

65.6

628

300

12"

BELL-60

600

242

407

4-φ29

76.9

605

360

657

350

14"

267

4-φ30

76.5

688

400

16"

BELL-160

1600

301

4-φ26

86.5

612

372

761

450

18"

327

4-φ26

105.6

783

500

20"

BELL-250

2500

361

4-φ26

131.8




Foot-mounted electric actuator is suggested.

600

24"

459

20-φ30

152

700

28"

BELL-400

4000

527

840

24-φ30

165

800

32"

594

950

24-φ33

190

900

36"

BELL-600

6000

653

1050

28-φ33

205

1000

40"

718

1160

28-φ33

218