Product Features:
· Knife gate valve opening and closing member is a gate, the direction of movement of the fluid direction perpendicular shutter, manual knife gate valve can only be fully open and fully closed, can not be adjusted and the throttle.
· Manual knife gate valve having a simple and compact structure, reasonable design, lightweight materials, reliable sealing, light and flexible operation, small size, channel flow, flow resistance is small, light weight, easy to install, easy to disassemble, etc., in the working pressure 1.0 MPa-2.5MPa, temperature -29-650 ℃ under normal work conditions.
· Knife gate valve gate has cut its function, scratch-off adhesive material of the sealing surface, the debris cleared automatically seal leakage, stainless steel gate to prevent corrosion.
· This type valve in the pipeline should generally be installed horizontally.
Property Parameter
Nominal

pressure(MPa)

Shell test(MPa)

Seal test(MPa)

Working temperature

Applicable medium

1.01.6

1.52.4

1.11.8

≤100℃≤425℃

Pulp, waste water, coal slurry, slag, ash and water mixture
Main Spare Parts Material
| | | | |
| --- | --- | --- | --- |
| Body, Bonnet | Disc | Stem | Seal |
| Stainless steel, carbon steel, gray cast iron | Stainless steel, carbon steel | Stainless steel | Rubber, PTFE, stainless steel, cemented carbide |
Dimension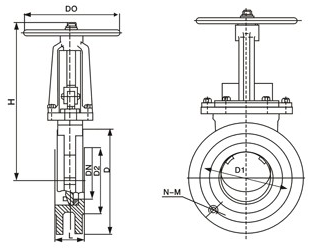 Nominal

pressure