Product Features:
·Valve opening and closing member is a gate, the direction of movement of the fluid in a direction perpendicular to the shutter, manual valve can only be fully open and fully closed, can not be adjusted and throttle use.
Use should be avoided in the micro shutter open, because the high-speed flow of medium erosion will accelerate the damage to the sealing surface. Gate for the lifting movement in the valve, disconnect the line the same as the gate dielectric.
· Medium flows unrestricted, non-spoiler, do not reduce the pressure.
· Widely used in petroleum, chemical, power plants and other oil, water, steam pipes, the control opening and closing of the medium.
Properties
| | |
| --- | --- |
| Design Standard | GB/T12234 |
| Body Material | Cast Steel |
| Operation way | Manual |
| Packing | Asbestos, flexible graphite |
| Seal | Alloy steel or hard alloy |
| Nominal Pressure | PN1.6~2.5MPa |
| Applicable Medium | Water, Oil, Gas, etc |
| Applicable Temperature | ≤425℃ |
Dimension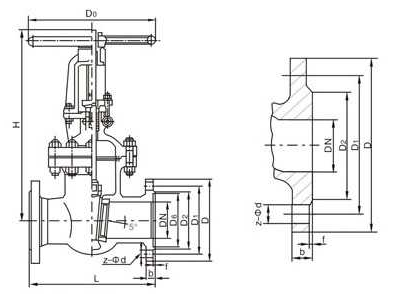 Nominal diameter,

DN(mm)

Flange/mm(JB79.1-94 Series 2 Raised Flange)