Product Features:
·O ball valves are usually used as cut-off valves and two type control.
·Its flow is simple and fully forms straight channel when full open,with minimum pressure loss.
·Ball valve rotate 90 ° seated fully open/close fastly. Low friction coefficient and small operating torque.
·Good sealing. A variety of the seat material and wide adaptation.
·Worm gear operation, large output torque, and can control a larger ball valve.
·Specially, it's suitable for high viscosity, suspension occasions, such as pulp fluid.
Spare parts Material
Spare parts

Material

Carbon steel

Stainless steel

GB

ASTM

GB

ASTM

Body/Bonet

WCB

A216-WCB

ZG1Cr18Ni9Ti
ZG1Cr18Ni12Mo2Ti

A351-CF8
A351-CF8M
A351-CF3
A351-CF3M

Ball

2Cr13
1Cr18Ni9

A276-304

Stem

2Cr13

276-410

1Cr18Ni9Ti
1Cr18Ni12Mo2Ti

A276-304;A276-304L
A276-316;A276-316L

Seal ring

PTFE/Nylon/fill the F4 /carbon fiber/2Cr13+STL

Packing/Gasket

PTFE/Asbestos packing/flexible graphite

Nut

35

A105-1035

Stainless steel

Double end bolt

35CrMoA

A193-B7

Stainless steel
Dimension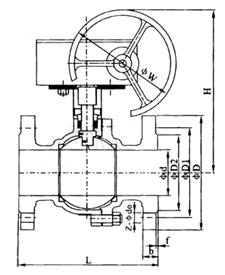 Rating

Nominal diameter, DN

L

d

D

D1

D2

b

f

Z-Φdo

PN16

25

150

25

115

85

65

14

2

4-14

90

32

165

32

135

100

78

16

2

4-18

107

40

180

38

145

110

85

16

3

4-18

127

50

200

51

160

125

100

16

3

4-18

140

65

220

64

180

145

120

18

3

4-18

164

80

250

76

195

160

135

20

3

8-18

177

100

280

102

215

180

155

20

3

8-18

206

125

320

127

245

210

185

22

3

8-18

292

150

360

152

280

240

210

24

3

8-23

320

200

400

203

335

295

265

26

3

12-23

365

PN25

25

150

25

115

85

65

14

2

4-14

90

32

165

32

135

100

78

16

2

4-18

107

40

180

38

145

110

85

16

3

4-18

127

50

200

51

160

125

100

20

3

4-18

140

65

220

64

180

145

120

22

3

8-18

164

80

250

76

195

160

135

22

3

8-18

177

100

320

102

230

190

160

24

3

8-23

206

125

360

127

270

220

188

28

3

8-25

292

150

400

152

300

250

218

30

3

8-25

320

200

550

203

360

310

278

34

3

12-25

365

PN40

25

165

25

115

85

65

16

2

4-14

90

32

178

32

135

100

78

18

2

4-18

107

40

190

38

145

110

85

18

3

4-18

127

50

220

51

160

125

100

20

3

4-18

140

65

250

64

180

145

120

22

3

8-18

164

80

280

76

195

160

135

22

3

8-18

177

100

320

102

230

190

160

24

3

8-23

206

125

400

127

270

220

188

28

3

8-25

292

150

400

152

300

250

218

30

3

8-25

320

200

550

203

375

320

282

38

3

12-30

365