Product Features:
·Compact structure, reliable sealing performance, long service life
·Widely used in fluid pipeline control system if water plant, power plant, steel mill, paper mill, chemical plant and buildings, acting as regulator of medium in the pipeline.
·Using BL Series small electric actuator, it's small in apperance, stable and reliable, and suitalbe for small size valves.
Performance Specification
Body Material: Cast Iron, Cast Steel, Stainless Steel
Seal Ring Materials: EPDM -40~+125℃
NBR -20~+82℃
SI -70~+150℃
VITON -23~+150℃
PTFE +10~+150℃
Applicable medium: Fresh water, sewage, sea water, air, steam, food, drug, various oil, acid, alkali, salt, etc.
Electric Actuator Main Parameters:
Power Supply: DC24V, AC110V, AC220V, AC380V, 50/60Hz;
Input Singal: 4-20mA DC, 1-5V DC (for selected);
Output Singal: 4-20mA DC (for selected);
Environmental Temperature: -25℃~+60℃;
Protection Grade: IP67.
Dimension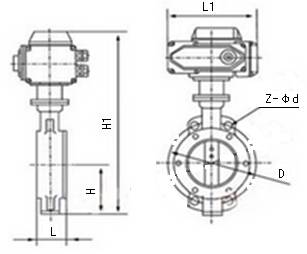 Unit:mm
DN

L

H

H1

L1

0.6MPa

1.0MPa

1.6MPa

D

Z-Фd

D

Z-Фd

D

Z-Фd

50

43

63

438

125

110

4-14

125

4-18

125

4-18

65

46

70

453

125

130

4-14

145

4-18

145

4-18

80

46

83

478

125

150

4-18

160

8-18

160

8-18

100

52

105

519

125

170

4-18

180

8-18

180

8-18

125

56

115

713

325

200

8-18

210

8-18

210

8-18

150

56

137

749

325

225

8-18

240

8-22

240

8-22

200

60

164

843

325

280

8-18

295

8-22

295

8-22

250

68

206

947

363

335

12-18

350

12-22

355

12-26

300

78

230

1013

363

395

12-22

400

12-22

410

12-26