Product Features:
·Small size, light weight, and rational construction.
·Good performance for anti-corrosion, anti-high temperature and anti-abrasion.
·Good mechanical performance and sealing performance can achieve zero leakage.
·Using BAW Series quarter turn pneumatic actuator, it can be used to control larger size wafer three eccentric butterfly valve.
·The pneumatic actuator must be with positioner to modulate the opening degree of valve.
Property Parameter
Nominal Diameter, DN

100~1000




mm

Nominal Pressure,PN

1.0

1.6

2.5




MPa

Test Pressure

Seal

1.1

1.76

1.1




Shell

1.5

2.4

1.5




Applicable medium

Air, water, vapor, gas and slightly corrosive medium such as acids, alkali and

salt

Leakage

Execute performance experiment on valve according to Metallic seal butterfly

valve, JBT8527-97, to achieve zero leakage.
Main Spare Parts Material
Body

Disc

Spindle

Valve Disc

Seal Ring

Shaft Sleeve

Packing

Q235-A

0Cr19Ni9

0Cr19Ni12Mo2Ti

Q235-A

0Cr19Ni9

0Cr19Ni12Mo2Ti

1Cr17Ni2




Stainless steel

& composites

SJ-1

ZCuZn38Mn2Pb2

Graphite
Pressure-Temperature Rating
Max.Temperature

℃

≤20

100

150

200

250

300

350

Body

Material

Nominal

pressure

MPa




0.25

0.25

0.25

0.225

0.2

0.175

0.15

-

Carbon

Steel

0.6

0.6

0.6

0.54

0.48

0.42

0.36

-

1.0

1.00

1.00

0.9

0.80

0.70

0.60

-

1.6

1.60

1.60

1.44

1.28

1.12

0.96

-

2.5

2.50

2.50

2.50

2.25

2.00

1.75

1.50

0.25

0.238

0.215

0.201

0.189

0.177

0.166

0.159

Stainless

Steel

0.6

0.57

0.52

0.48

0.45

0.42

0.40

0.38

1.0

0.95

0.86

0.81

0.76

0.71

0.66

0.63

1.6

1.52

1.31

1.29

1.21

1.13

1.06

1.01

2.5

2.38

2.15

2.01

1.89

1.77

1.66

1.59
Main Parameters of Actuator
1、Medium:Clean, dry and no-corrosive compressed air
2、Working gas pressure:0.3~0.7MPa
3、Working condition temperature:Standard type:-20℃~+80℃
High temperature type:-20℃~+180℃
4、Rotary angle:90°±3°
5、Supply voltage of the equipped solenoid valve is available to:24VDC、24VAC 50Hz、110VAC 50Hz、220VAC 50Hz
Dimension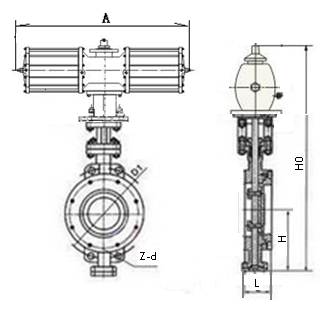 Nominal diameter

L

H0

A

1.0MPa

1.6MPa

2.5MPa

D1

Z-d

D1

Z-d

D1

Z-d

100

56

524

355

180

8-18

180

8-18

190

8-22

125

64

570

210

8-18

210

8-18

220

8-26

150

70

635

355

240

8-22

240

8-22

250

8-26

200

71

690

405

295

8-22

295

12-22

310

12-26

250

76

767

405

350

12-22

355

12-26

370

12-30

300

83

890

450

400

12-22

410

12-26

430

12-30

350

92

952

450

460

16-22

470

16-26

490

16-33

400

102

1070

450

515

16-26

525

16-30

550

16-36

450

114

1140

650

565

20-26

585

20-30

600

20-36

500

127

1200

650

620

20-26

650

20-33

660

20-36

600

154

1380

850

725

20-30

770

20-36

770

20-39

700

165

1580

850

840

20-30

840

24-36

875

24-42

800

190

1760

1250

950

24-33

950

24-39

990

24-48

900

203

1914

1250

1050

28-33

1050

28-39

1090

28-48

1000

216

2040

1250

1160

28-36

1170

28-42

1210

28-56