Product Feature
·Rubber full lining, the rubber is vulcanized in the inner wall of the valve, without any leakage in the connecting point.
·Tight rubber lining, avoiding redundant and movement, highly reliable and durable.
·Seal design of the valve is reasonable, small torque, high pressure seals, and no bubble
·The valve is flanged, neutral, and can be used at the end of pipeline.
·Equipped with BAW series part-turn pneumatic actuator, which could control larger-diameter flanged central-line butterfly valve.
·The pneumatic actuator is equipped with solenoid valve, which could control the open and close of valves.
Performance Specification
Valve body material:cast iron, cast steel, stainless steel
Seal-ring material:EPDM -40~+125℃
NBR -20~+82℃
SI -70~+150℃
VITON -23~+150℃
PTFE +10~+150℃
Medium:fresh water, sewage, sea water, air, steam, food, drugs, all kinds of oil, acid, alkali, salts and so on.
Main Parameters of Actuator
1. Medium: Clean, dry and no-corrosive compressed air
2、Working gas pressure:0.4~0.7MPa
3、Working condition temperature:Standard type:-20℃~+80℃
High temperature type:-20℃~+180℃
4、Rotary angle:90°±3°
5、Supply voltage of the equipped solenoid valve is available to:24VDC、24VAC 50Hz、110VAC50Hz、220VAC 50Hz
Dimensions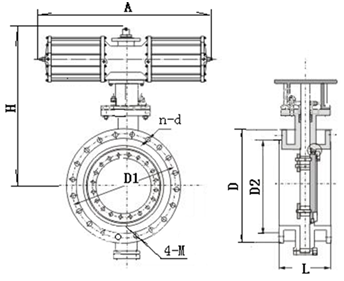 DN

mm

Torque

Nm

Equipped actuator

A

H

L

PN1.0MPa

D1

D2

D

n-d

100

250

BAW13

600

605

127

180

156

220

4-φ18

125

250

140

210

184

250

4-φ18

150

600

140

240

211

285

4-φ22

200

1000

BAW17

800

708

152

295

266

340

4-φ22

250

1600

810

165

350

319

395

4-φ22

300

2500

BAW20

1140

905

178

400

370

445

4-φ22

350

2500

960

190

460

429

505

12-φ22

400

4000

BAW20

1140

1020

216

515

480

565

12-φ26

450

4000

1080

222

565

530

615

16-φ26

500

4000

1140

229

620

582

670

16-φ26

600

4000

1200

267

725

682

780

16-φ30

700

6000

BAW28

1460

1380

292

840

794

895

20-φ30

800

8000

1500

318

950

901

1015

20-φ33

900

8000

1550

330

1050

1001

1115

24-φ33

1000

10000

1608

410

1160

1112

1230

24-φ36

1200

12000

BAW35

1860

1813

470

1380

1328

1455

28-φ39

1400

12000

1923

530

1590

1530

1675

32-φ42

1600

16000

2043

600

1820

1750

1915

36-φ48

1800

16000

2143

670

2020

1950

2115

40-φ48

2000

20000

2248

760

2230

2150

2325

44-φ48
DN

mm

Torque

Nm

Equipped actuator

A

H

L

PN1.6MPa

PN2.5MPa

D1

D2

D

n-d

D1

D2

D

n-d

100

250

BAW13

600

605

127

180

156

220

4-φ18

190

156

235

4-φ22

125

250

140

210

184

250

4-φ18

220

184

270

4-φ26

150

600

140

240

211

285

4-φ22

250

211

300

4-φ26

200

1000

BAW17

800

708

152

295

266

340

4-φ22

310

274

360

4-φ26

250

1600

810

165

355

319

405

4-φ26

370

330

425

4-φ30

300

2500

BAW20

1140

905

178

410

370

460

4-φ26

430

389

485

4-φ30
Famous Brand, Assuring Quality

TIANJIN BELL AUTOMATIC INSTRUMENT TECHNOLOGY CO., LTD
TEL
:
022-
27772369,27795091
FAX
:
022-27529983
E-mail:fw@bellaut.com