Feature
·Compact structure, reliable sealing performance, long service life
·Widely used in fluid pipeline control system if water plant, power plant, steel mill, paper mill, chemical plant and buildings, acting as regulator of medium in the pipeline.
·Equipped with BGT series part-turn pneumatic actuator, which could control small-diameter wafer central-line butterfly valve.
·The pneumatic actuator is equipped with solenoid valve, which could control the open and close of valves.
Performance
Valve body material:cast iron、cast steel、stainless steel
Seal-ring material:EPDM -40~+125℃
NBR -20~+82℃
SI -70~+150℃
VITON -23~+150℃
PTFE +10~+150℃
Medium:fresh water, sewage, sea water, air, steam, food, drugs, all kinds of oil, acid, alkali, salt and so on.
Main Parameters of Actuator
1、Medium:Clean, dry and no-corrosive compressed air
2、Working gas pressure:0.4~0.7MPa
3、Working condition temperature:Standard type:-20℃~+80℃
High temperature type:-20℃~+180℃
4、Rotary angle:90°±3°
5、Supply voltage of the equipped solenoid valve is available to:24VDC、24VAC 50Hz、110VAC 50Hz、220VAC 50Hz
Dimension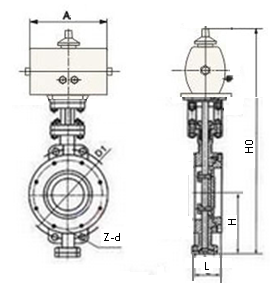 DN

L

H

H0

A

0.6MPa

1.0MPa

1.6MPa

D1

Z-Фd

D1

Z-Фd

D1

Z-Фd

50

43

63

316

180

110

4-14

125

4-18

125

4-18

65

46

70

330

180

130

4-14

145

4-18

145

4-18

80

46

83

385

245

150

4-18

160

8-18

160

8-18

100

52

105

435

405

170

4-18

180

8-18

180

8-18

125

56

115

450

405

200

8-18

210

8-18

210

8-18

150

56

137

625

350

225

8-18

240

8-22

240

8-22

200

60

164

720

350

280

8-18

295

8-22

295

8-22

250

68

206

805

550

335

12-18

350

12-22

355

12-26

300

78

230

840

600

395

12-22

400

12-22

410

12-26
Famous Brand, Assuring Quality

TIANJIN BELL AUTOMATIC INSTRUMENT TECHNOLOGY CO., LTD
TEL
:
022-
27772369,27795091
FAX
:
022-27529983
E-mail:fw@bellaut.com